My Blog
Posts for tag: root canal
By Blue Ridge Dental
February 08, 2021
Dr. Lynette Smith and Dr. G. Bennett Smith at Blue Ridge Dental perform root canals for patients in Mount Airy, NC. If you're having tooth pain, come see your dentist while we can still save your tooth with a root canal!
What is a root canal?
A root canal, or endodontic treatment, is a way to salvage an infected tooth. If you have an infection the tooth pulp can be removed, preserving the rest of your natural tooth.
First, your tooth and the area around it are numbed. The root canal procedure includes creating an opening in the crown of the tooth and removing the tooth's root and the infected tooth pulp, as well as a thorough cleaning of the tooth's canal system. Your dentist may place medicine in the tooth to prevent infection. A filling is placed to prevent further infection and finish your tooth. This procedure can save your natural tooth and keep you from needing a dental implant.
When do I see my dentist about a root canal?
Patients who need a root canal often notice worsening pain in the tooth. The goal of regular dental appointments is to help you before you need a root canal, but don't ignore any of these signs:
Tooth pain
Tooth sensitivity
A gum blister
Jaw pain or swelling
These are all signs that you may have an infected tooth, but you can actually have tooth decay without feeling pain or experiencing symptoms. This is another reason it's important to have regular exams.
Many patients try to delay coming to the dentist for a root canal because of fear of the pain, but the procedure is similar to getting a filling in terms of discomfort, as you are numbed during the root canal. You may have some discomfort for a few days after the procedure, and your dentist will recommend the best way to relieve any pain. A root canal actually saves you from further tooth pain or a complete dental abscess.
Keeping up with regular dental appointments is important to prevent root canals, but if you do get an infected tooth Dr. Lynette Smith and Dr. G. Bennett Smith can help. Call Blue Ridge Dental in Mount Airy, NC, at (336) 789-5306.
By Blue Ridge Dental
March 27, 2019
Discover the purpose behind root canal treatments and why they are necessary.
Have our Mount Airy, NC, dentists Drs. Lynette and Bennett Smith told you that you need root canal treatment? We know that finding out
that you need any kind of dental work can be a little stressful, especially if you don't know what to expect. Our goal at Blue Ridge Dental is to keep you informed about any dental procedures you need to undergo, so that you are never left in the dark. Find out more about root canals and how they could end up saving your damaged teeth.
Why do I need a root canal?
In order to understand how a root canal works, it's first important to understand the anatomy of a tooth. Inside the hard outer layers of the tooth lies a structure, known as the dental pulp. This soft tissue is made up of nerves and blood vessels, and it's instrumental in the development of the tooth. However, when the pulp becomes inflamed or infected, then our Mount Airy, NC, general dentists will recommend root canal treatment.
How does dental pulp become inflamed or infected?
Whenever bacteria get inside the tooth, it can infect the dental pulp. This often occurs if you are dealing with,
Deep decay
A cracked or fractured tooth
A traumatic injury to the tooth
Sometimes, if a tooth has had to undergo several dental procedures, it can also weaken the tooth and affect the health of the dental pulp. When this happens, the only way to treat the problem is to remove the pulp. If left untreated, the bacteria can spread to neighboring teeth, as well as, the jawbone and cause a widespread, serious infection, resulting in tooth and bone loss.
What should I expect from a root canal?
A root canal can be performed in just a single visit. Dr. Smith will first numb the area with a local anesthesia. From there, we will go inside the tooth to extract the pulp and to clean out any bacteria trapped inside the tooth.
Once the tooth has been thoroughly disinfected, we will fill the tooth with a special material to support and preserve the structure. The root canals will also be sealed up to prevent bacteria from entering. Since any tooth that has been damaged by decay, infection, or trauma is now weaker, it's important that we place a permanent dental crown over the tooth to protect it from further damage and to restore it. Since crowns are custom-made, you will need to come back into our office one more time after your root canal, so that we can place the crown.
Here at Blue Ridge Dental, your oral health is our top priority. No matter whether you're dealing with a toothache or you just need to schedule your next dental checkup, our Mount Airy, NC, dental team has you covered! Call (336) 789-5306 today!
By Blue Ridge Dental
October 30, 2015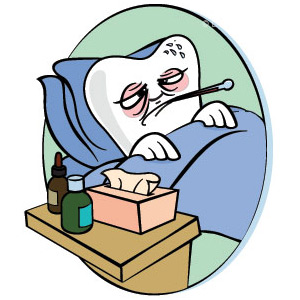 Which would you rather have — the flu or a root canal procedure? Nearly 80 percent of people recently surveyed by the American Association of Endodontists wisely chose the root canal. If this takes you by surprise, then let us bring you up to date on root canal treatment today. It's nothing like the experience that once made it the butt of jokes and a benchmark against which other "undesirable" experiences were measured.
The term "root canal" actually has two meanings. It is part of the pulp-filled chamber at the center of every tooth containing nerves and blood vessels that keeps teeth vital (alive). It's also the endodontic (endo  = inside; dont = tooth) procedure that treats inflammation and infection in this tissue. Common causes of pulp problems are traumatic damage (for example a crack, chip, or root fracture), deep decay, or gum disease.
The first sign of a problem is typically pain — ranging from acute and intense pangs when biting down, to lingering discomfort after consuming hot or cold foods, to a chronic dull ache and pressure, or tenderness and swelling in nearby gums. The primary pain may abate as the nerves in the pulp die, but the infection will continue, compromising the affected tooth, jeopardizing the health of the surrounding tissues, and often triggering secondary pain.
Pain-Relieving, Tooth-Saving Treatment
Endodontic treatment, by contrast, is no more uncomfortable than having a cavity filled. The tooth and surrounding area are numbed with a local anesthetic before the procedure begins. In order to access the diseased pulp, a small opening is made in the biting surface of the tooth. Tiny instruments are used to remove the pulp, clean and disinfect the root canal(s) and pulp chamber, and prepare the empty tooth interior to receive a biocompatible filling material to prevent bacteria from returning. A permanent crown may be placed over the tooth at that time, or a second visit may be needed. A crown (cap) is important to the tooth's long-term strength and functionality.
For a day or two following treatment you may experience temporary sensitivity, which often responds to an over-the-counter medication like ibuprofen. Occasionally, prescription medications, including antibiotics, may be needed.
All in all, doesn't saving a tooth sound easier and more constructive than coming down with the flu?
If you would like more information about root canal treatment please contact us or schedule an appointment for a consultation. You can also learn more about the subject by reading the Dear Doctor magazine article "A Step-By-Step Guide To Root Canal Treatment."